Recognizing that technology continues to change and companies continue to invest in new equipment, SCL Equipment Finance offers financing solutions that allow businesses to stay current.
We are a nationwide company providing equipment financing, working capital, purchase order financing, inventory financing and SBA programs to small-to-midsized businesses in the United States and Canada.
One of the unique things that we offer is that we have the ability to structure various lease transactions and bring funding to all types of businesses. Our financing solutions make it easy to acquire, manage and control your assets.
Through multiple funding programs, we provide flexible terms, highly competitive rates, fast credit approvals and custom-tailored financing solutions to our customers.
Services and Programs
Equipment Financing
Equipment financing is an over $1 trillion industry annually. About 80% of U.S. companies lease/finance some or all of their equipment at some point. Quick Facts:
Simple & easy 24-48 hour approval process
New & used equipment accepted (equipment & software)
Terms ranging from 2-7 years
Minimum transaction of $5,000
Application only program, no financials needed up to $250,000
Transactions up to $25 million
Why Choose Financing?
Preserve working capital
Tax advantages
Easy & simple process
Predictable low monthly payments
Replace older technology
No exposure to personal credit
Benefits of Equipment Financing:
Maintain cash flow
Convenience & speed
100% financing
Lower upfront costs
Flexible pay structures
Ability to bundle costs
Easy 5-Step Process:
Step 1: Apply
Step 2: Get approved
Step 3: Select payment & equipment
Step 4: Documentation
Step 5: Funding
https://www.youtube.com/watch?v=x0Q0jjWU2JE Eligibility:
Sole Proprietor / Independent contractor
Partnership
Corporation
Startup business
All industries
Located in the United States & Canada
Working Capital
A working capital loan allows businesses to finance their everyday, short-term operations (wages, accounts payable, etc.).
Looking for a better way to borrow? Our fast access to working capital options offer financing solutions for all credits.
Quick Facts:
Quick & easy process
Fast approvals within 24-48 hours
Fixed monthly payment
Small business loans from $3,500 up to $500,000
Small & mid-sized businesses with a consistent & diversified revenue stream qualify
Business financing options for all credits
Working Capital Uses:
Purchase inventory
Expand your business
Finance new equipment
Hire new employees or pay current ones
Renovate an existing facility
Get fast access to working capital! Call 714-573-9804 ext.109 or email Crystal at crystalg@socalleasing.com to get the process started!
Purchase Order Financing
Purchase order financing is a short-term funding option where a business pays the manufacturer or supplier of goods upfront for verified purchase orders.
Inventory Financing
A type of asset-based lending, inventory financing enables businesses to utilize inventory as collateral when requesting a revolving line of credit. Businesses utilize this form of financing to expand their inventory or make up for seasonal fluctuations in cash flow.
SBA Programs
The
Small Business Administration
(SBA) is a federal agency dedicated to helping entrepreneurs improve their small businesses, take advantage of contracting opportunities and gain access to small business loans.
SBA Loan Uses:
Adding to working capital
Purchasing inventory or equipment
Refinancing other debts
Buying real estate
Financing the acquisition of other businesses
To learn more about any of our programs, call us at 714-573-9804 or email us at info@socalleasing.com.
Selling a Business
SCL PARTNERSHIP WITH CROSSROADS BUSINESS BROKERS, INC.
SCL strives to add value to our Clients through key partnerships with industry leaders in various fields. SCL's partnership with CrossRoads aims to provide our clients with access to a valuable resource that can both educate on and execute exit strategies for Business Owners.
By completing the Seller Registration below, you can gain access to a one-on-one consultation and material that describe how to best prepare your business for sale, as well as receive a complementary Opinion of Value Analysis Report (for Businesses with Revenue > $1MM).
---
SELLER PRESENTATION: "HOW TO BEST PREPARE YOUR BUSINESS FOR SALE"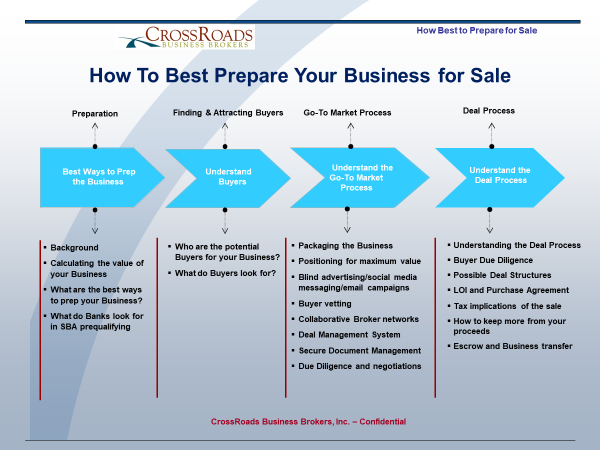 ---
FREE OPINION OF VALUE ANALYSIS
We will perform a more detailed analysis and provide a detailed Opinion of Value report
We offer it as a free service for businesses over $1MM in revenue!